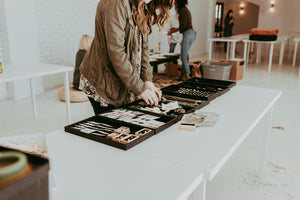 About Me
I am completely obsessed with nature and gemstones and constantly inspired by the organic beauty that surrounds us. My pieces are for the free spirited who are looking for something handcrafted and unique in a world of mass production. Valerie Morgan Designs jewelry is heirloom quality and can be enjoyed for generations.
Handcrafted in Dallas, TX ~ Est. 2011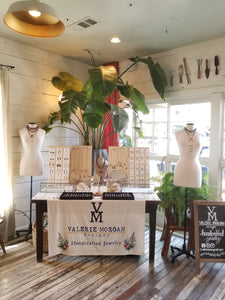 Local Events
Valerie Morgan Designs participates in local events in the DFW area throughout the year. I would love to meet you in person at one of our shows! You can check out our event schedule here!
Events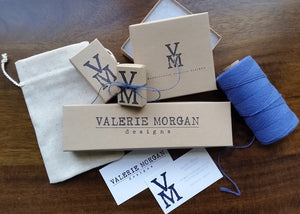 Eco Friendly Packaging
Environmental responsibility is an important aspect of Valerie Morgan Designs.
Our packaging and packing materials are made of post-consumer recycled waste. All of our printed materials are printed on 100% Post-Consumer Recycled Fiber and are 100% biodegradable with zero VOC soy & vegetable based inks. Our printing company is a certified "B Corporation" that is FSC "Chain of Custody" certified, SFI certified, Green-e certified, Processed Chlorine Free, and Ancient Forest Friendly.
Ring Junkie
Rings are my absolute favorite type of jewelry to make and wear! You can never have enough, so stack 'em up!
Shop Rings