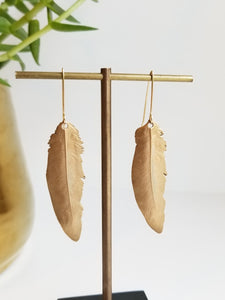 Pair of handcrafted bronze long feather earrings with 14K gold fill ear wires.
To create this lovely feather, I made a mold of a real bird's feather to re-create the feather in metal.
Each individual feather is made by pressing metal clay into the mold then cutting and sanding by hand, then kiln fired and finished to this beautiful and unique piece of solid metal jewelry. As with any handmade item, variations are to be expected and enjoyed!
*14K gold-filled is an actual layer of 14 carat gold - pressure bonded onto a base metal. It is not gold-plate - it has more gold than gold-plating, will not flake off and is far more valuable and tarnish resistant.
 *Bronze is composed of 90% copper and 10% tin and is nickel free.